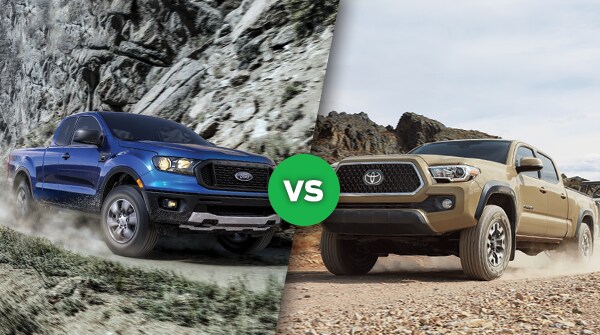 Finally! The word Ford Truck enthusiasts exclaimed when they found out that after almost a decade, the Ranger was making its return to the States. I mean let's be honest, while full-size trucks have gotten bigger, cooler, and more feature-packed, those of us in between needing an SUV, and wanting a little more utility, have been limited in our choices. Beyond that, the mid-sized truck segment has been nothing short of BORING. With Toyota comfortably sitting pretty at the top of its class, loyal Ford drivers have either gone full-sized or decided to deal with the humdrum choices since the Ranger left Ford's line up in 2011. That is until now!
What's better than telling all your friends about your cool new truck… Nothing! With the 2019 Ranger, we finally have some of those cool new features on an All-New truck. AutoTrader.com said it best, "The Ranger is its own thing and truck buyers seem likely to love it."
Where the Rubber Meets the Road
The world has changed since the last Ranger roamed the streets of America, specifically when we are talking about engines and tech. Despite the Toyota Tacoma remaining virtually unchanged since the mid-2000's, it has always been revered for having a rock-solid powertrain. Ford is challenging that with the 2019 Ranger by pairing the power-packed 2.3L EcoBoost with a class-leading 10-speed transmission. This combo doesn't just beat the Tacoma; it crushes it in almost every way. Better fuel economy, massive towing figures, blisteringly fast, and the list goes on. When comparing the 2.3L EcoBoost to the other trucks in this segment, Outside magazine said, "unlike the high-revving engines in the Colorado, Gladiator, and Tacoma, this one feels like it actually belongs in a truck." Oh, we almost forgot the best part… every Ranger comes with this drivetrain!
When you're not pressing your foot to the floor to leave a Tacoma seeing your taillights, or towing more than any other truck in the segment, you can smile knowing you have even more features on the inside. Wifi, ten-speaker Bang & Olufsen sound system, Amazon Alexa, an 8.0-inch touch screen, built-in Waze navigation… This truck has it all, and the Tacoma has none (literally you can't get any of those.)
We believe it when we say the Ranger is better in every way than the Toyota Tacoma, but don't take our word for it. Come into Plymouth Ford today and drive a brand-new Tacoma and then drive the Ranger. Don't rely on our writing skills and witty sense of humor alone, come in and see for yourself why Outside Magazine said, "With the Ranger, we American truck enthusiasts have finally gotten the hard-use, heavy-duty, midsize off-road pickup we've always asked for." We promise you won't be disappointed.
Make an Inquiry